Professional Piano Teacher in Whitley Bay, Newcastle, North East England
0191 280 1206 | 07984 468 054

Professional musician and teacher Andrew Ridgwick offers private keyboard lessons at his home music studio in Whitley Bay.
For well over 20 years, Andrew Ridgwick has taught students from various demographic backgrounds, covering all ages and abilities.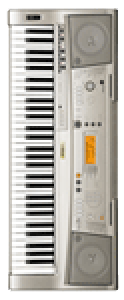 Driven by enthusiasm and an inherit friendly, patient and encouraging nature, all keyboard lessons are individually tailored to suit the student. As well as study, fun and inspiration play a key factor in the lessons, keeping the student interested and inspired, even when the going gets tough!
Yes, a keyboard must be owned so that practise can be undertaken on a regular basis at home. Unlike a piano, keyboards don't take up much space and are very portable, so accommodating one shouldn't prove too much of a problem. With the sound being produced electronically, they also have the advantage that they can be played through headphones, allowing silent practise anywhere in the home.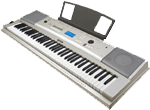 There are many different models of keyboard to choose from, which can seem daunting at first. However, the main features you will be looking for on your first keyboard will be:
5 Octaves (61 Keys)
Full Size Touch Sensitive Keys
A Good Selection of Voices/Tones
Rhythm/Accompaniment Section
For guidance on buying a suitable keyboard, along with a breakdown on the various terms and features of keyboards, please read Buying a Keyboard.
Anyone can learn to play the keyboard, from young children through to grandparents wanting to take up a new interest during retirement. Children can start from the age of six generally, although some gifted children can begin from the age of four.



There are no prerequisites for learning to play the keyboard, only a desire to embrace one of the most rewarding challenges you will ever decide to undertake.
Lessons are £14 per half hour session.



Other costs incurred will be that of music books and any external examinations which are undertaken.
What's The Difference Between Piano & Keyboard?
The main differences between piano and keyboard are the keys, the way in which the hands are used and the sound produced.



On a piano, the keys are bigger and heavier than those on a keyboard. Each hand is used independently, to play notes pretty much anywhere on the piano. On a keyboard, the right hand is used solely to play the melody whilst the left hand is dedicated to providing an accompaniment, by means of playing chords lower down on the keyboard.

A piano sounds like a piano and is a solo instrument. The sound produced is down to the pianist alone. On a keyboard however, the keyboardist is able to change the sound at will in order to make it sound authentic to the style of music being played.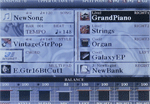 As well as changing the melody sound, the keyboardist can also select a suitable rhythm/accompaniment for the music, to play along with. This accompaniment will also feature many other sounds which the keyboard will produce in order to 'fill out' the entire performance. This sound can be very exciting, especially with today's keyboards and offers the possibility of an individual keyboardist orchestrating some quite complex music, often in many styles which are not really suited to the solo piano.
Keyboards, Computers & MIDI
Schools now have music labs filled with keyboards which are used to teach students on. They are now typically linked to computers to enable sequencing via MIDI - which all sounds complicated, but basically enables the student to do multitrack recording, build compositions and also to notate their works ready for printing.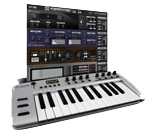 This can be a daunting topic for the uninitiated, especially if you are trying to build a similar system in your own home to enable projects to be continued out of school. This frequently happens for GCSE & A-Level coursework assessment. Your custom tailored keyboard tuition can have these topics included, so that your coursework can be progressed out of school time.



If you would like to further pursue sequencing, MIDI & notation, Andrew Ridgwick's studio is equipped to handle this. You can learn the ropes from basic backing track production through to professional keyboard rigs and how to set them up and play for a wide variety of roles including showbands and musicals.
Lessons are held weekly on a chosen weekday, with a duration of either half or a full hour. A learning program will be put together for you, which will be gradually worked through week by week at your own pace. Homework will be set which will require daily practise ideally.

This may start at 15 minutes per day, rising as your standard progresses.

For children, it is important that parents encourage regular practise, spending time listening to their hard work and ensuring that adequate time is set aside during the day for practise to take place. An unorganised and rushed rehearsal schedule is a slippery slope which ultimately leads to slower progress, boredom and the keyboard simply becoming a chore.
How Long Does It Take To Learn?
Progress is entirely dependant on the individual. Practise is the key factor to the speed of development. You will be playing your first pieces of real music within weeks, with development continuing over years to ensure that you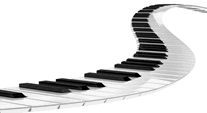 develop into a well rounded and competent keyboardist.

Being a keyboardist is also about being a musician, being a musician involves learning a lot of skills, some of which can only naturally develop over time, no matter how desperately you want them to appear instantly.
Andrew Ridgwick has invested in an online music tuition system whereby lesson notes, progress charts and audio examples can be posted and reviewed by teacher, pupil and parents alike.

Students are given their own login details which enables them to access their own records on the

internet. From here, students can review lesson notes and also hear audio examples of their study pieces. Andrew Ridgwick will perform the piece the student is studying and post it as an example audio file. The student can then listen to this on the internet, or download it for use on an MP3 player. In certain lessons, the student's performance will also be recorded and posted to the site. This builds an invaluable history of the student's progress, which can be heard at anytime, now and in years to come!
Examinations in keyboard can be undertaken with the London College of Music Examinations (LCM) or Trinity College London. These are leading music examination boards with wide accreditation acceptance.

Whilst undertaking exams can be a useful barometer for progression and a useful goal to strive for, especially for the younger student, they are by no means mandatory and should not be looked upon as the ultimate achievement in your piano playing development. Becoming a successful pianist requires many skills, for which examinations alone will not prepare you for.
Keyboard Lesson Catchment Areas
Areas within reach for keyboard lessons in the Tyne and Wear county:
Whitley Bay . Cullercoats . North Shields . Tynemouth . Wallsend . Seaton Sluice .

Seaton Delaval

. Newcastle Upon Tyne . Jesmond . Heaton . Walker . Byker . Gosforth . Wideopen . South Shields .

Tyne & Wear

.

Northumberland
Why not surprise someone with a gift keyboard lesson? A special gift card will be sent which will entitle the recipient to a 1/2 hour keyboard lesson, which by the end of, they will be playing their very first piece of keyboard music!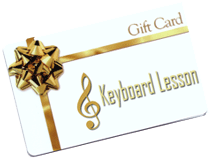 Any quantity of 1/2 lessons can be purchased.
This is an ideal 'first step' for many students who are thinking about learning to play the keyboard, but are maybe apprehensive about taking the initial plunge.
Call, Text, Email

Andrew Ridgwick

Anytime
(Please leave a voicemail if I am unable to answer your call)
0191 280 1206 | 07984 468 054